RESP/GCWCC
GOVERNMENT OF CANADA WORKPLACE CHARITABLE CAMPAIGN (GCWCC)
Enrollment is quick and easy! Click here
Tradex donates an amount matching 5% of your RESP contributions made through this program to the GCWCC. Your contributions are deposited in deferred sales charge funds with a 6 year hold period. This produces a 5% commission, which we donate in your name and you receive the tax receipt.
Contributions can be made monthly, bi-weekly or in a lump sum
RESP's are invested in Ethical family of funds, a leader in socially responsible investing
Donations help programs in your community, such as those that assist children to acquire the basic skills they need to succeed in school
Here's how it works!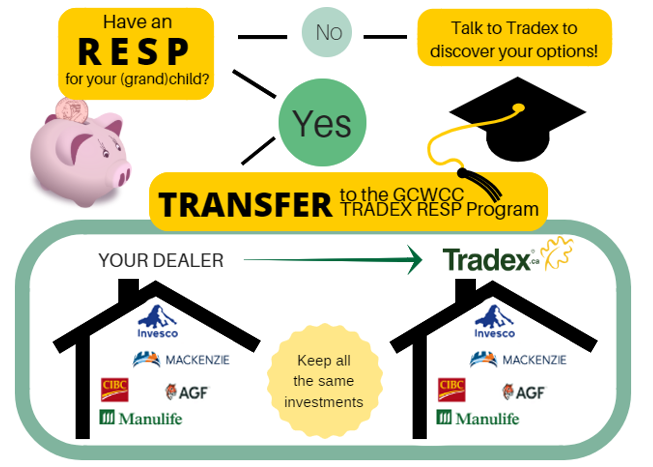 An Example
Transfer
$43,000 RESP to Tradex
(Tradex makes a donation equal to 5% of your transfer on your behalf)
$2,150
Donation
(For your department)
$823
Tax credit for YOU
(At NO out-of-pocket costs to you)
You wish to become a Tradex member ? A Tradex advisor will be happy to help you.