One independent Tradex investor is appointed to each of our three Fund committees along with two independent directors of the Manager. The committees meet on a quarterly basis to make recommendations on investment policies and monitor the respective Funds.
---
NICOLAS TODD
Tradex Global Equity Fund Investor Representative, has extensive experience working at the intersection of politics, policy, and communications where he has served as a senior political staffer at the federal and provincial levels, a federal public servant, a public affairs consultant, and as a senior industry association executive. While serving as a public servant, Nicolas worked at Public Safety and Emergency Preparedness Canada and at the Department of Foreign Affairs and International Trade. He has an Honours Bachelor of Arts from the University of Toronto.
BRIAN ASKETT
Tradex Equity Fund Investor Representative, retired from the Public Service of Canada with 33 years of Service. Brian worked in many administrative and financial positions in various Departments. He joined Foreign Affairs in 1988 and spent his last 19 years in the Department retiring as the Director of Financial Operations and International Banking with a 4-year posting to Berlin in 2002. Brian has a Diploma of Business (Accountancy) from Loyalist College and a Bachelor of Business Administration from the University of Ottawa. Brian is a Certified Financial Planner and has a financial consulting business.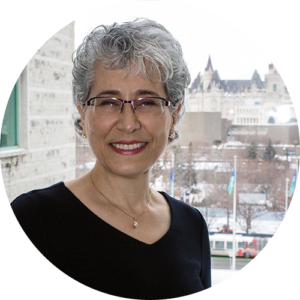 Dena Palamedes
Retired in 2016 from Canada Border Services Agency after over thirty-six years working in various federal departments. Dena's experiences include internal audit and program evaluation; organizational change management in civil aviation; reporting to Parliament of federal hiring practices; the recruitment and development of the federal government's internal audit community; policy development and professional internal audit advice to federal departments; and financial services. She is active in the Institute of Internal Auditors, teaches and consults part-time.  Dena has a Bachelor of Social Science (Economics) from The University of Western Ontario and is a CPA, CMA, CIA, CFE, CCSA and CRMA.
You wish to become a Tradex member ? A Tradex advisor will be happy to help you.